Boris Groys and Stella Art Foundation organized an international symposium "Revisiting Conceptual Art: the Russian Case in an International Context", which was held on April 14 and 15, 2011 at the Central House of Writers at the Central House of Writers in advance of the 54th Venice Biennale.
The interest in the Conceptual Art of 1960s–1970s is characteristic of the today's international art scene in general. The same can be said also about the contemporary Russian art scene. But this new interest in Conceptual art raises a number of questions concerning the legacy of Conceptual Art and its historical past. One of the main questions is the following: Are there only one or many Conceptualist traditions? Or, in other words: Is Conceptualist Art a unified artistic phenomenon or we are able to speak about different, even heterogeneous Conceptualisms?

These and many other related questions will be discussed at the Moscow symposium.
April 14, 2011
Panel 1
Moderator: Nikolai Molok

11:00 – 11:40
Boris Groys, Conceptual Art and its Legacies
11:40 – 12:20
Terry Smith, One and Three Ideas: Conceptualism Before, During and After Conceptual Art

12:20 – 13:00
Discussion


Panel 2
Moderator: Nikolai Molok

14:30 – 15:10
Chus Martinez, Elsewhere

15:10 – 15:40
Discussion

April 15, 2011
Panel 3
Moderator: Vladimir Levashov

11:00 – 11:40
Sarah Wilson, Moscow Romantic Exceptionalism? A Suspension of Disbelief

11:40 – 12:20
Ekaterina Degot, Conceptual Practices in Moscow: Performing Objects, Narrating Installations
12:20 – 13:00
Keti Chukhrov, The Soviet Material Culture and Socialist Ethics in Moscow Conceptualism
13:00 – 14:00
Discussion

Panel 4
Moderator: Keti Chukhrov

15:00 – 15:40
Jörg Heiser, Tyranny of Intimacy / Intimacy of Tyranny

15:40 – 16:20
Anton Vidokle, Art Without Work?

16:20 – 17:20
Discussion
---
---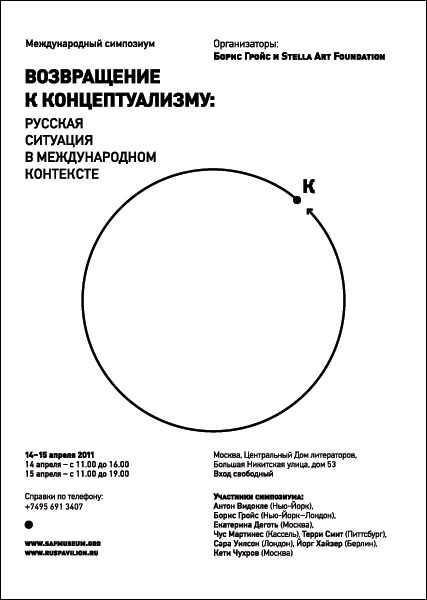 ---
1 Апреля 2019
Новая пресса

Российский "Зеленый павильон" на 56-й арт-биеннале в Венеции обошелся в €800 тыс. // Светлана Янкина, ТАСС , 29.04.2015
«Никогда Россию в Венеции не представляла женщина» // Олег Краснов, Lenta.ru, 20.04.2015
"Нынешний проект Ирины Наховой снова связан с цветом" // Дмитрий Буткевич, Коммерсантъ FM, 01.04.2015
Женское трио ответит за Россию // Мария Москвичева, MK.RU, 31.03.2015
Сергей Шеховцов. Театр боевых действий, где все понарошку // Елена Федотова, The Art Newspaper Russia, 12.12.2014

26 Марта 2015
Venice Biennale 2013

"THE GREEN PAVILION" - the project by Irina Nakhova, which will be shown this year - is not just a contemporary art project but also relates to architecture.
18 Июня 2013
Russian Artists at the Venice Biennale, 1895-1913

In 2014 the Russian Pavilion at the Venice Biennale will celebrate its 100th anniversary. As the anniversary year approaches, Stella Art Foundation with the support of the Banca Intesa is presenting a book dedicated to the history of the Russian Pavilion and of Russian involvement in the Venice Biennale. More...
24 Апреля 2012
Venice Biennale 2013

Stella Kesaeva, the President of Stella Art Foundation and Commissioner of the Russian Pavilion at the Venice Biennale of Contemporary Art, named the Russian Pavilion Artist for the 55th Biennale. He will be Vadim Zakharov. Read more...